REFINISHED HARDWOOD FLOORS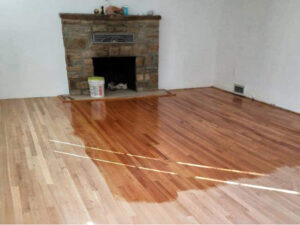 Restored or Refinished Hardwood Floors
Often restoring or refinishing hardwood floors is the most cost-effective flooring solution. Our professional floor restoration services include:
Consultation-Choosing a floor finish is a very important and personal decision to be made. We'll discuss our recommendation(s) and your options as to color, and finish, then schedule your project once you've reached a decision.
Preparation-We will first establish the condition of the floor through appropriate testing. We also remove shoe moulding around the room, check for loose boards and remove any loose particles on or in-between boards.
Sanding the Floor is the next step-Proper sanding is one of the most important steps in the refinishing process and it starts with Rough Sanding to remove any stains or rough edges. We now offer optional DUST "LESS" sanding and refinishing. The process will help to reduce the amount of dust produced in the sanding process.
We'll finish sanding with a fine or "Screen" sanding to smooth out any rough spots and prepare the floor for a smooth finish. The final step of the sanding process is to clean the floors thoroughly to remove any remaining dust and debris.
Wood Stain or Sealer-Based on what you decided as far as your floor finish, we'll apply the wood stain or sealer to the newly sanded surface. We can assure you we use only top quality products to provide the best results! We also offer custom stain options to provide enhanced beauty and help match or contrast any existing colors.
Protective Finish Coat-Your flooring finish is the final (refinishing) step in this process. We'll use the best quality applicators to avoid any drips and sand between coats to ensure a smooth, even finish. When the surface is completely dry, we'll replace shoe moulding, and perform a final inspection.
We invite you to get in touch. We'll discuss whether Restoring your Hardwood Floors is your best option. We know you'll be happy with our work.
Get in touch for a free estimate
Additional Samples of Our Work