SOLID WOOD FLOORS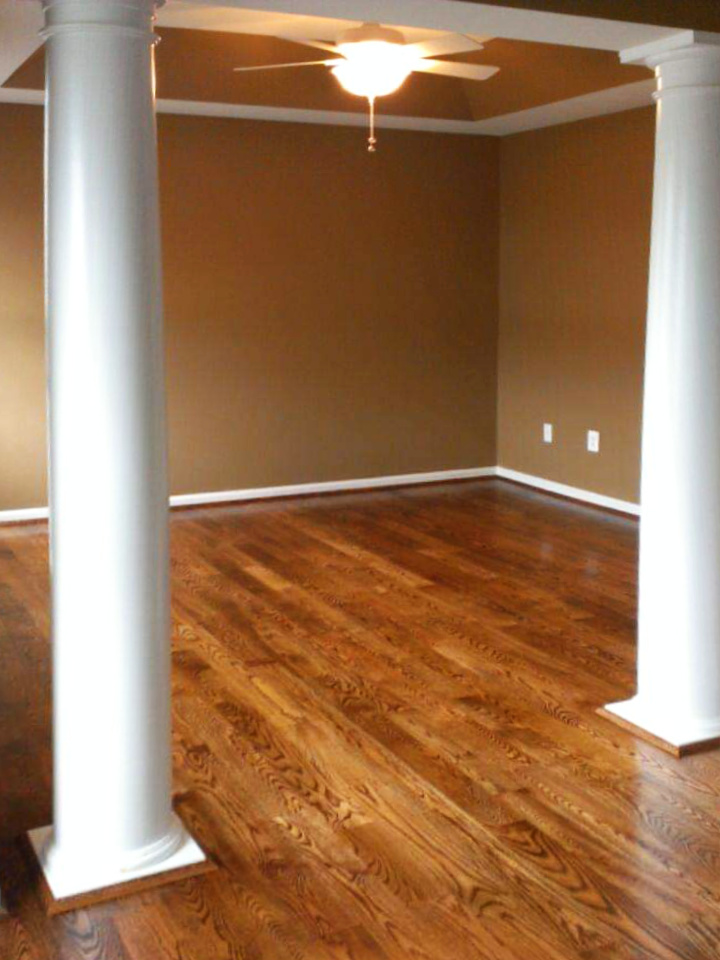 Hardwood flooring is a widely popular choice for many home-owners and businesses due to its durability, but did you know wood floors are considered a "green" alternative? In addition to improving air quality (for those with allergies), the manufacturing process for wood flooring is less harmful to the environment than carpeting.
No matter what your reason for considering hardwood, Restored Floors can install a hardwood floor in your home or business with long-lasting, attractive results.
First step in the process is consultation and estimate. We'll meet with you to discuss your budget, current surface, subfloor, and the type(s) of wood you're interested in along with our recommendations (if you wish).
Preparation is extremely important when installing new solid wood flooring. We begin with removal of shoe moulding, followed by removal of the existing floor surface– carpeting, old wood, vinyl, etc. It's important during this process to remove any old nails, older remnants, and thoroughly prepare the surface below… the subfloor. This area MUST be smooth and level for stability and protection against moisture. We'll sand any higher spots, and fill in lower spots. In some cases we may add new underlayment which will provide an extra level of protection, comfort and sound-proofing.
Hardwood installation methods vary depending on flooring preferences, product choice and availability—
Click-lock (often used for engineered wood)
Adhesive (or glued, also used for engineered wood)
Nail-down installation (for cost-effectiveness, and long-lastly durability of a solid wood floor. Wood subfloor is required for nailing.)
Finishes—When purchasing new wood flooring you have a choice of pre-finished or "site finished" surface. Pre-finished materials are exactly as it sounds… finished in the factory before being shipped. Site finished floors have a surface that can be installed, sanded, then (based on your choice of stain color and sheen), finished professionally by Restored Floors. Did we mention, we now offer optional DUST "LESS" sanding and finishing. The process will help to reduce the amount of dust produced in the sanding process.
Regardless of the floor finish and installation method, you can rest assured we will install your new hardwood floor in a professional, efficient manner with no leftover mess to clean up and a beautiful hardwood floor that will last a life-time.
Get in touch for a free estimate
Additional Samples of Our Work