LUXURY VINYL PLANK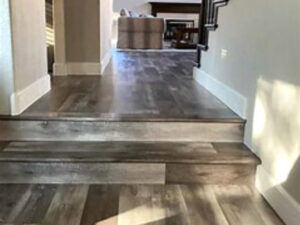 "LVP" or Luxury Vinyl Plank is a type of flooring designed in planks to look like wood, but with the benefits of vinyl. It's a water-resistant, low-maintenance and cost-effective option with a wide variety of plank styles and colors, which makes it even more appealing.
Although installation of LVP is fairly straightforward, preparation is extremely important. Subflooring must be level, dry, and smooth. We'll sand any higher spots, and fill in lower spots. Underlayment is also an option if necessary. The goal is to provide a flat, smooth surface—free of any debris or dust particles.
Next is installation. Whether your plank is "tongue and groove" or "peel and stick," it takes a great deal of measuring, and patience to install a floor that is properly aligned and makes the most of your materials (with little waste). Restored Floors takes great care to plan and implement the layout of your floor, with cost-effective, attractive results.
Benefits
Tongue and groove vinyl flooring is often water-resistant, and locks together, which helps to protect the floor from warping.
Peel and stick plank vinyl flooring offers a wide variety of styles and is simple to remove, which makes it easy to replace in the future.
Get in touch today to discuss whether Luxury Vinyl Plank (LVP) is a solution that will fit your needs, and your budget.
VINYL PLANK EXAMPLES